Post by virtualburton on Dec 3, 2021 19:00:09 GMT
Hi all,
My boat did not come with a microwave and since I live aboard I needed one. I looked at the factory photos and saw that they installed it in the top, centre cupboard above the fridge so I decided to do the same. I found a 0.7 cu. ft. Microwave at my local electronics and home appliance store and bought it for about $110.
My biggest concern was running power for it. I planned to install a new outlet taking power from the aft AC outlet above the nav station chair behind the port light. Imagine my surprise when I pulled the cabinet door off and removed the back panel to find an outlet already there! Well done Jeanneau!
Essentially what I did was removed everything inside the cabinet, removed the back panel and made a small cut-out for the wire to come through then re-installed the panel. I put the microwave in pace and determined for the door to open while leaving room to reach the handle of the lower cabinet I would need to hang the microwave from the top to get it as high as possible. I mounted some metal angle brackets to the top of the microwave and managed to slide my cordless driver down each side to drive screws up into the top panel. I installed 4 brackets, one at each corner. That was the easy part...
By far the hardest part was cutting the hinged door panel to fit around the microwave but especially profiling the cut at the bottom left so the Microwave door would open without a huge gap on the left side. Once I had that working, I then added 2 blocks of wood at each side of the top and fixed the door permanently with 2 of the brown plastic angle brackets Jeanneau uses all over the place. This allowed me to open the 2 adjacent door and screw them into the blocks from the side.
It was a tough job just getting everything to fit right without seeing any fasteners and profiling the curved section of the hinged door to clear the microwave door.
Here's what it looks like: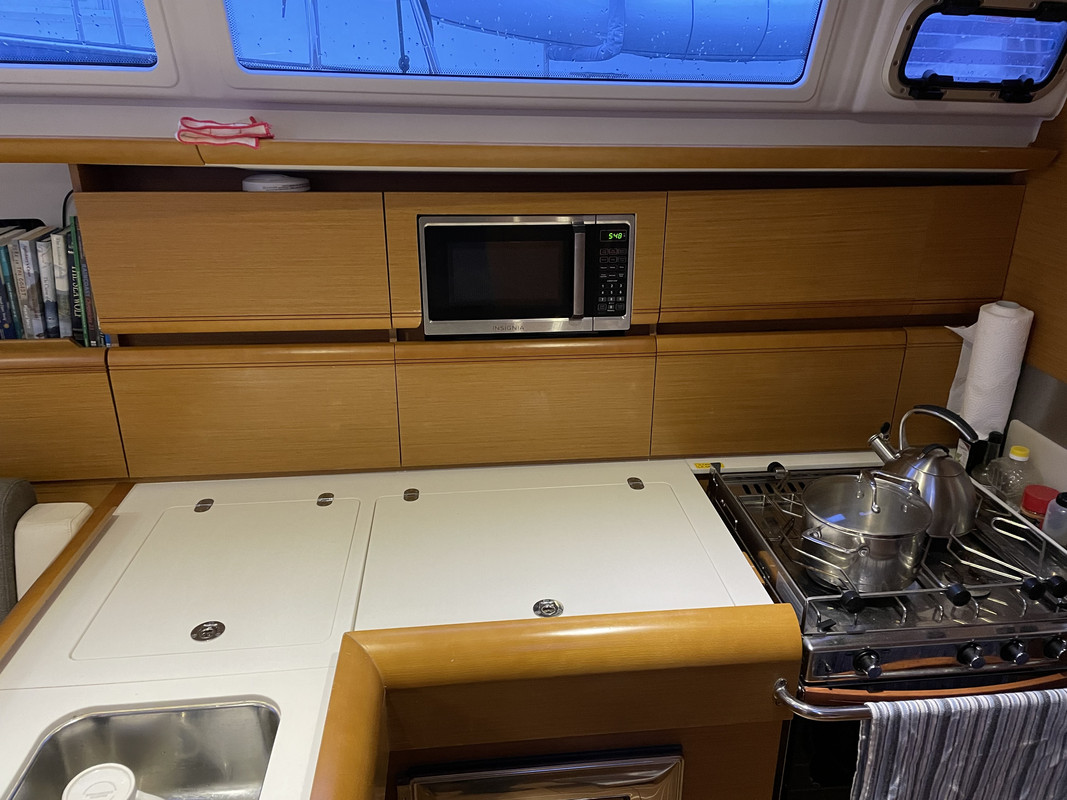 and here's the factory Microwave: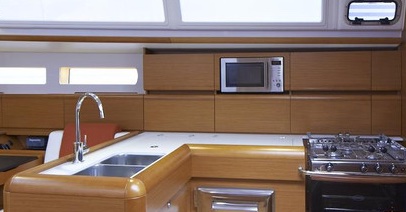 Sorry I didn't take more photos, but I'm not going to remove the door at this point to take more. If you want more info pls DM me.
I'm happy with the result so thought I'd share.
David