Post by andreshs1 on Nov 1, 2021 6:29:07 GMT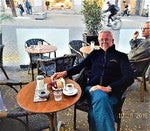 But per your question -- she has maybe 60k nm on her. 2 Atlantic crossings. All the Black Sea, Almost all the Med. All the Caribbean and never an issue. She use to draft 4'11" i think but last time i put her on the ground was 5'3". As someone said above she take a lot more than i can. But as also above a lot depends on the crew and wisdom of the crew of when to go and when not to go.
Hi Chuckr
My schedule for departure is 3 years, so the kids can take a gap year and come with me before starting secondary school
do you have a list of items that you have upgraded? photos?
I have a 43DS and have been working on the upgrade for a few years now (budgetary constrains...), I started by fixing all the issues the boat had when I bought it (e.g. base of the compression mast, etc.)
here some of my thoughts (do bear in mind that I am BY NO MEANS an expert, so more than happy to get feedback

)
power: I have fitted an arch with 360watts and an MPPT. The plan is to upgrade to LifePo4 in the coming years, at that point in time I will remove the gas hob and replace with an induction one
fuel: additional fuel tank will be added to the aft master cabin, I have seen a post from another member in the Hints & Tips, where installing a custom made SS tank gained him close to 200L
water maker: Rainman AC High output. I am going with AC as I do have a generator onboard, and in the worst case scenario I could run it for 1 ~2 hours on an inverter. better to make lots of water in a shorter time than getting drips of water over the day
AIS: Matsutec ha-102
washing machine: under study for location and options, I very much like the Daewoo wall mounted one, yet, it seems impossible to get (and I am based in HK with colleagues in Seoul)
Other items to add (pending on budget & opportunity): Radar, EPIRB, Life-raft & SSB (or a satellite phone would suffice??); inner forestay

I would love to hear/see what other members have done though



Cheers
Andres