Post by MalcolmP on Jan 3, 2020 11:11:41 GMT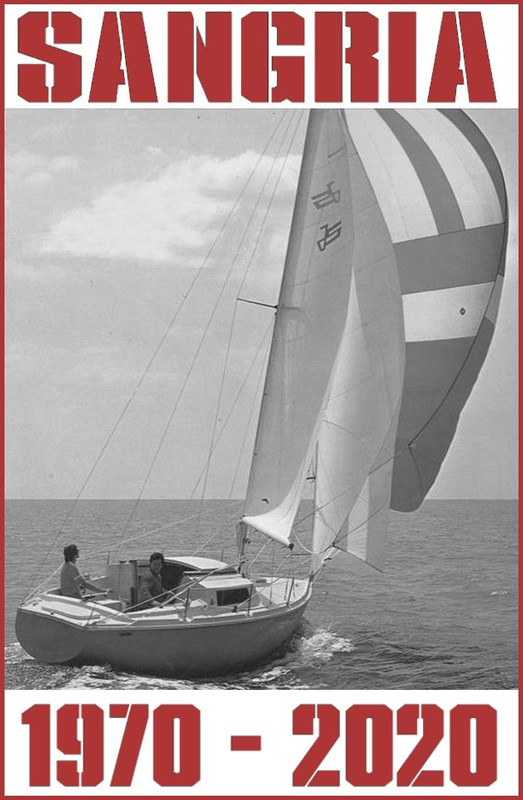 2020 marks the 50th anniversary of the Jeanneau Sangria, one of the World's most successful production sailboats, with more than 2700 boats being built before production finally ceased in 1982.
The active French Sangria and Aquila Owners Association
Les Sangriaquilamis
www.sangriaquilamis.org/
are planning celebrations, but for those less familiar with the development of the class, the Sangria story begins in the mid-sixties when the leisure sailing market for small cruisers was expanding fast, but then generally dominated by plywood construction. Henry Jeanneau and his team had enjoyed great success in switching their powerboat construction from wood to polyester, but they were not gaining the same success with their small glass fibre sailing boats, whilst the 6m Alizé was well received, it was rather too sporty for coastal cruising and the 8m Jeanneau Storm launched in 1966 intended to fill this niche made only disappointing sales. A rethink was needed, and indeed around this time Jean-Marie Finot, a student designer who had studied under the renowned naval architect Phillipe Harlé approached Jeanneau with his design idea for the 7m Ecume de Mer.
Jeanneau and Finot though could not agree mutually acceptable license terms, so whilst later the Ecume de Mer also became very successful, initially built with hard chines in aluminium by Walter Huisman and then later as the polyester version developed by Roger Mallard, Jeanneau still desperately needed a new sailboat design.
The then production director at Jeanneau was Olivier Gibert, a successful offshore racing sailor based in La Rochelle and also a good friend of Phillipe Harlé who had designed the now classic plywood 5.5m Muscadet in the early sixties. Gibert and Harlé discussed the requirements to develop a simple sailing boat design suitable for large scale polyester moulded production.
Gibert was convinced this would be a winner and gained the agreement of Henry Jeanneau to continue the development of this new model, which was destined to become the 7.6m Sangria. Once again the terms for the design royalties were a matter of dispute. Initially Jeanneau offered Harlé a flat rate 1% royalty, but Harlé, who suffered from deafness, wanted an initial 1% rising to 1.5% after 100 boats had been sold. The negotiations dragged on with Harlé possibly exploiting his poor hearing. Henry eventually said that he would increase his offer to 2% but only if they made more than 150 units, but the first 150 would be at 1%. These terms were agreed, no doubt much to the later satisfaction of Harlé, as of course subsequently thousands of his final design was produced.
The beauty and key to the phenomenal success of the Sangria was its inherent simplicity in both design and construction, that allowed a low initial purchase price and reduced future maintenance costs, so allowing many, many people to experience safe offshore cruising and racing in their own boat, with the option of either inboard or outboard power propulsion.
At around this time, Henry was negotiating the sale of the entire Jeanneau shipyard to the American Bangor Punta group. Olivier Gibert though did not want to continue working at Jeanneau under the new ownership and saw the opportunity to branch out and create his own shipyard, so Gibert Marine (later known as Gib'Sea) was established in Marans near his home town of La Rochelle. However Olivier's expertise was prized by the new American owners of Jeanneau and so Gibert Marine was subsequently contracted to undertake new sailboat development including the construction of plugs and moulds for many of the new Jeanneau sailing designs, including the Gin Fizz. This close collaboration also allowed the Gibert yard to produce their own Sangria version, known as the GTE with a revised ballast arrangement.
Following such success was particularly hard, but by the early eighties a replacement for the Sangria was becoming pressing, so Jeanneau returned to Phillippe Harlé for a new design which resulted in the ground-breaking Fantasia 27 that combined good sailing performance with a spacious interior due to the innovative double aft cabin under the cockpit plus an aft heads. Thus establishing a formula that would become almost the mandatory layout for many rivals for decades. Not surprisingly Jeanneau had found another winner and went on to construct at least 1500 Fantasia's.