Post by MalcolmP on Jul 17, 2019 17:58:20 GMT
I spent a good part of today crawling over not one but two of the new Sun Fast 3300's courtesy of a kind invitation from Nigel Colley at
Sea Ventures
on the Hamble, UK.
Nigel is currently commissioning his new boat - Fastrak XII and adding some clever additional features - some of which must remain "secret go-faster" options.
Also afloat in the Marina was Sapristi - the SF3300 prototype that Nigel recently sailed up from La Trinite. Both boats will be competing in this year's Fastnet Race starting 3rd August which will be great to follow, at least on the trackers.
I was able to take quite a lot of photos, just a few are shown in this post, the entire albums may be viewed at:
Sapristi Images
and
Fastrak XII Images
I am no racer but the SF3300 cannot fail to impress, being packed with some really innovative ideas and thoughtful ergonomics that may in due course influence the more mainstream Jeanneau designs.
Styling is very much in the eye of the beholder, but it was very informative to be able to compare both the rather shouty "LOOK AT ME" graphics of Sapristi with the pristine currently unadorned white hull of Fastrak XII.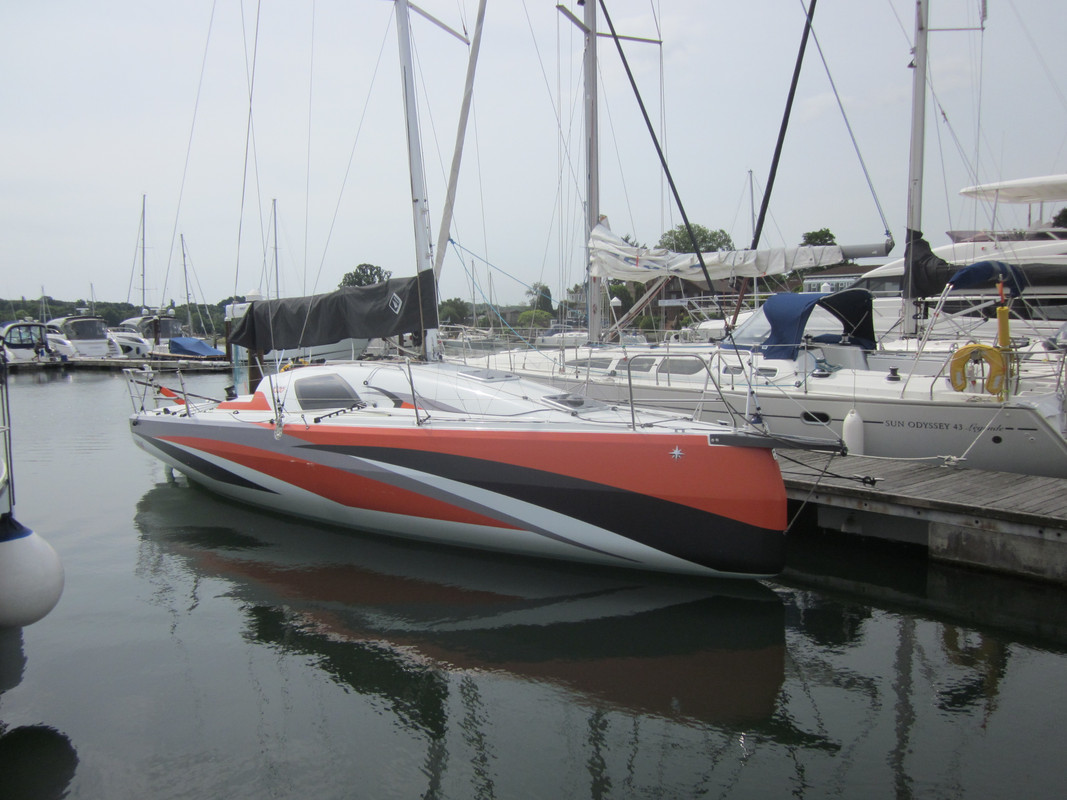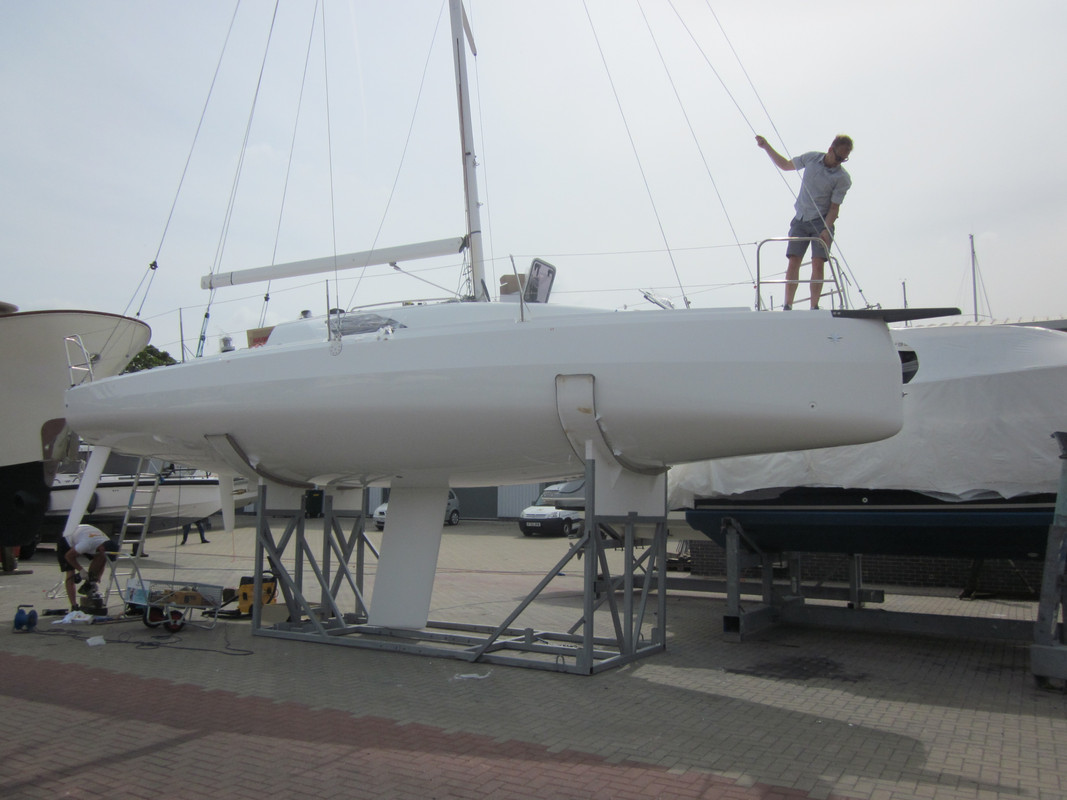 www.23hq.com/Jeanneau/photo/57339238/original
www.23hq.com/Jeanneau/photo/57338574/original
Personally I love tumble-home, so it was good to see this making a comeback, apparently it assists with keeping overall weight down. The bulbous broad scow type bow appears even more dramatic in the flesh and the innovative slight concave hull form forward of the keel is quite apparent. Jeanneau have given a lot of attention to detail to optimize performance, for example all skin fittings are flush mounted ex-works. The keel is lead bolted to a cast iron stub.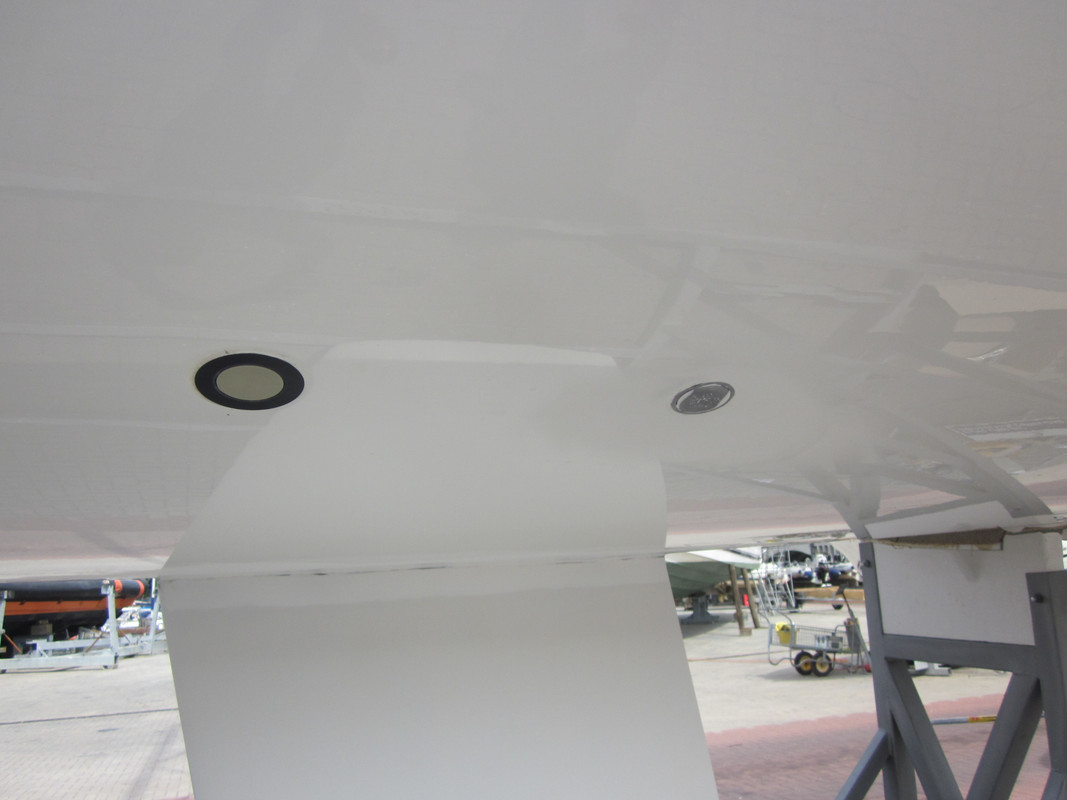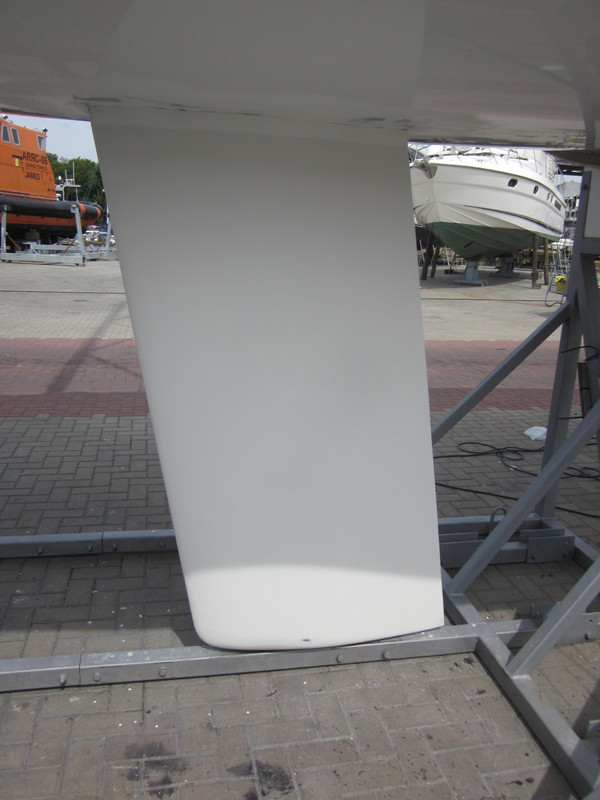 www.23hq.com/Jeanneau/photo/57338653/original
www.23hq.com/Jeanneau/photo/57338652/original
The dramatic "bug eye" portlights not only make a strong visual statement, but from down below allow excellent views both forward and up into the rig. The coachroof narrows considerably forward of mid beam to allow very clear wide side decks with integral barber haulers. Whilst the bowsprit at first glance may look short, because the mast is placed relatively so far aft it still allows for large foretriangles.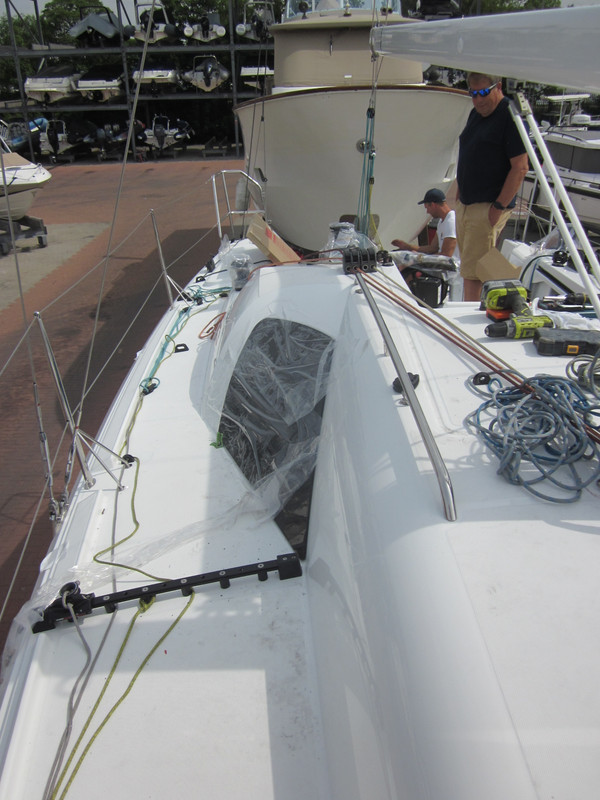 www.23hq.com/Jeanneau/photo/57338807/original
Also interesting to see 200kg water ballast as an option. The system is simple to operate with retractable water inlet scoops and pump buttons in the companionway. Both boats were sporting the optional full carbon rigs beautifully fabricated by Axxon Composites in Romania. The SF3300 has a single tiller controlling the twin blade rudders, which makes the cockpit much better to navigate and reduces the chance of getting line wraps. As can be seen in the photos whilst there are numerous control lines, the cockpit layout ensures they are all close to hand by the helmsman when sailing short-handed. The mast has twin running backstays but these are primarily required for forestay tension, the rig will actually allow downwind sailing in 20 knot breezes without runners.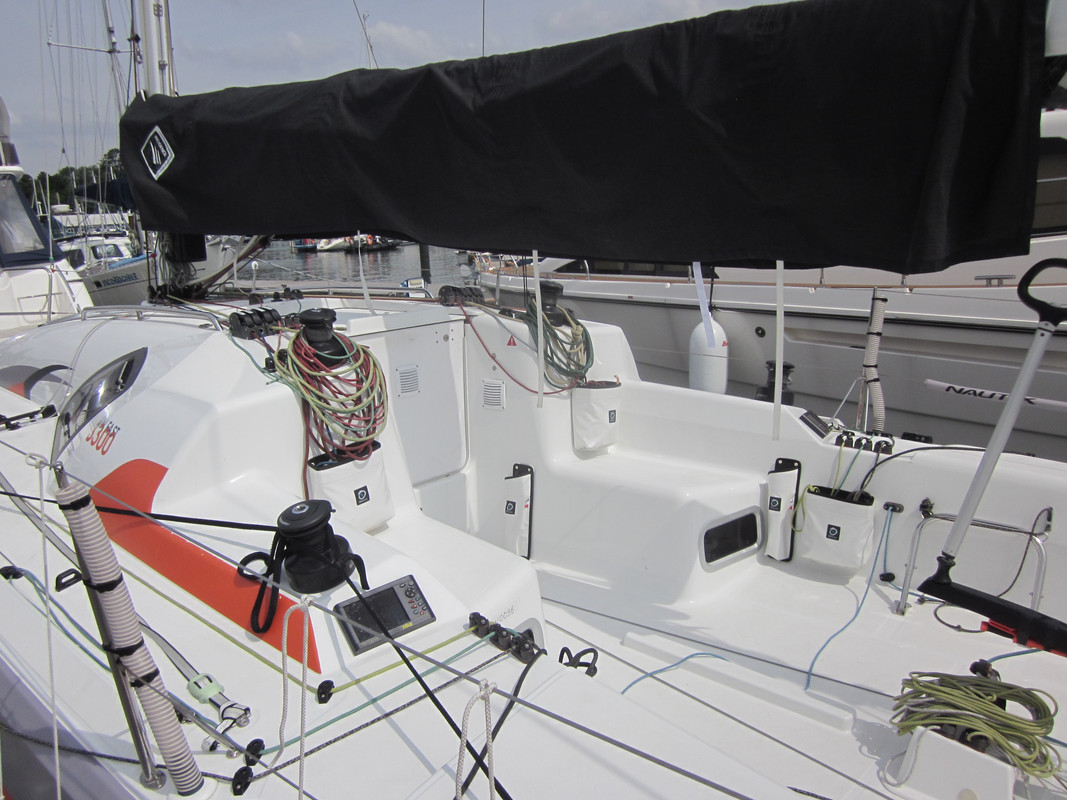 www.23hq.com/Jeanneau/photo/57339319/original
www.23hq.com/Jeanneau/photo/57339265/original
Whilst the interior reflects the racing and performance requirements of the design, where weight saving, not luxury is the overriding consideration, it actually feels quite light and spacious, with a larger galley than I expected to port and an equally large chart table and nav station to starboard.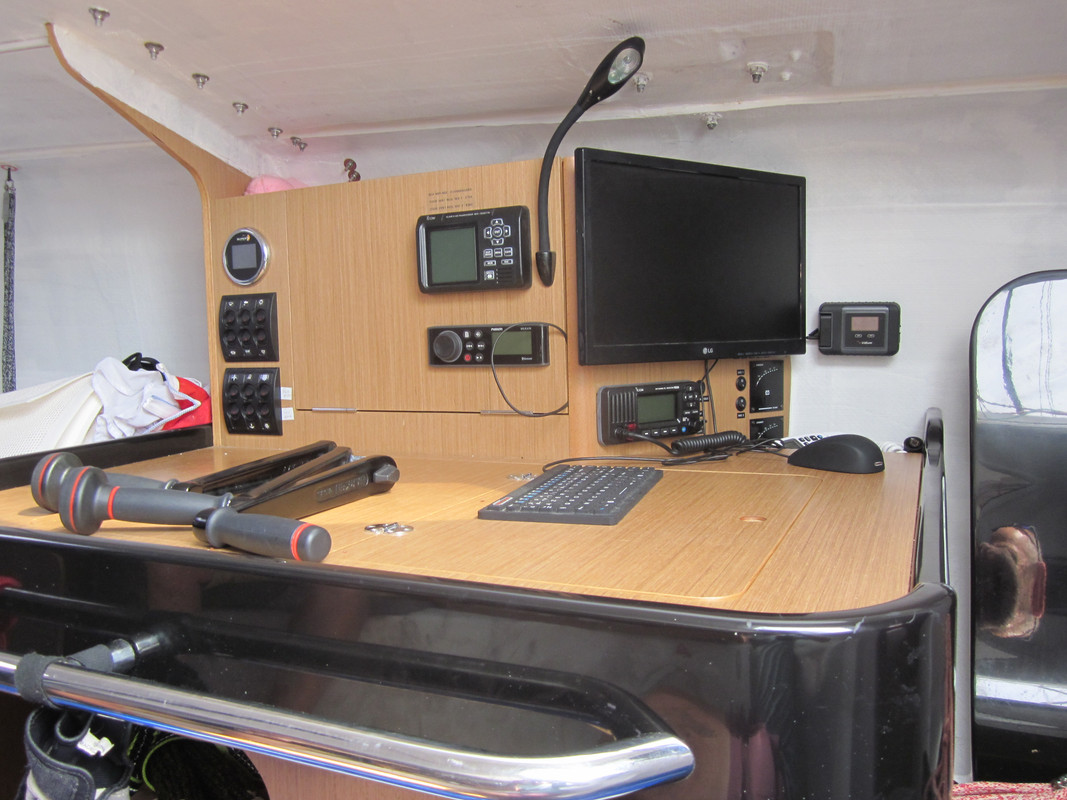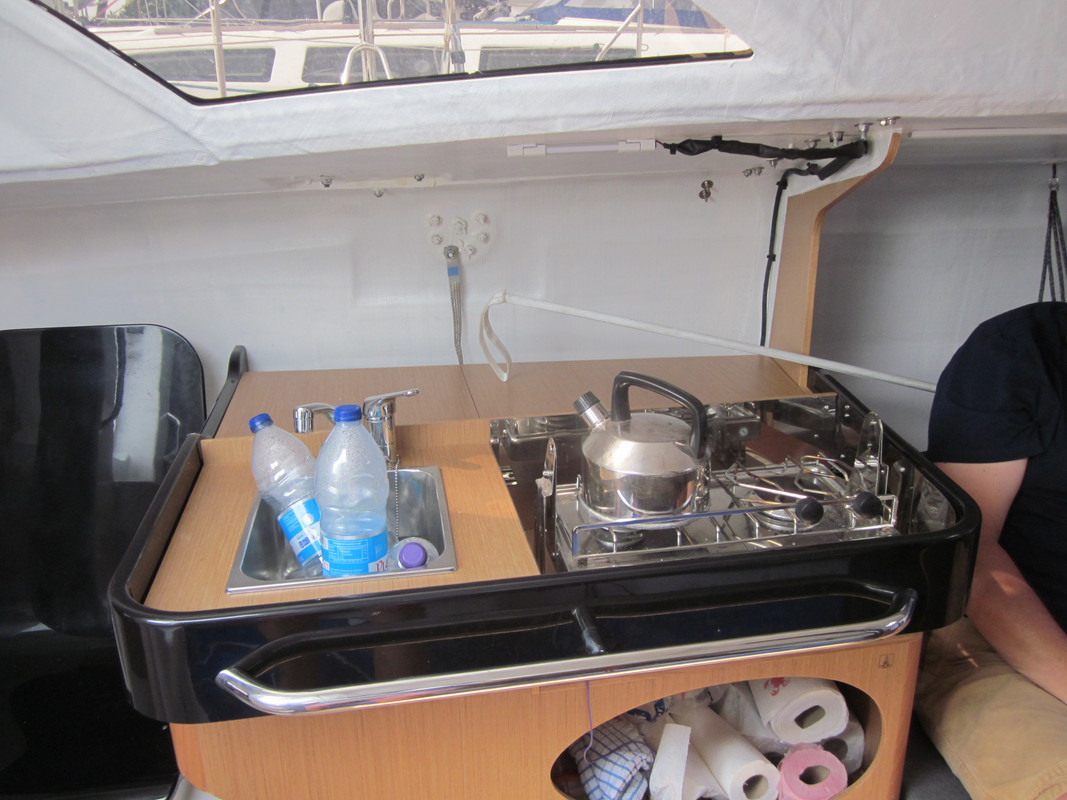 www.23hq.com/Jeanneau/photo/57339451/original
www.23hq.com/Jeanneau/photo/57339457/original
There are comfortable off watch seats immediately port and starboard that give good views upwards through the portlights to the sailplan, no doubt reassuring for solo sailors concentrating on squeezing every last bit of performance, even when heating up the chilli!
Malcolm Perrins - Jeanneau Owners Network - July 2019
PS If you want more information on the Sun Fast 3300 from a real expert contact Nigel at
Sea Ventures
- Hamble, UK.